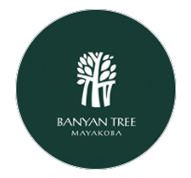 BANYAN TREE MAYAKOBA
A Rewarding Experience in Every Way

Mayakoba, which means village on the water in Mayan, is home to the Banyan Tree Mayakoba, an extraordinary blend of Mexican culture and Asian hospitality. A stunning sanctuary for the senses and the perfect getaway for relaxation, rejuvenation, romance and world-class dining.
Discover the secrets of the Riviera Maya
VILLAS

122 Elegantly Designed Private and Quiet Villas of Secluded Lagoon View and Beach Front Three Bedroom Villas. All have spacious and airy outdoor areas, private pools and unique designs, starting at 3,000 square feet.

• Villa Bliss with pool
• Serenity Villa with Pool and Living Room
• Spa Villa with pool and massage porch
• 2 Bedroom Serenity Villa with Pool
• Villa with 2 bedroom pool next to the lagoon and the beach
• 3-bedroom beachfront pool villa
• 3-bedroom family residence

GASTRONOMIC EXPERIENCES
Banyan Tree Mayakoba offers a fantastic variety of exceptionally superior dining experiences for all tastes.

• Saffron: Banyan Tree's signature restaurant, serves authentic Thai cuisine. Sitting on a wooden deck overlooking the tropical mangroves.
• Cello: a gastronomic experience faithful to the richness of northern Italian cuisine, where herbs and olive oil enhance its original flavors.
• Sands: Located on the beach. Enjoy light snacks, fresh seafood, the catch of the day, and traditional Mexican specialties.
• Oriente: offers a luxurious Mexican, Asian and international style, buffet breakfast every morning.
• Reflections Pool Bar: located next to the main lobby, offering creative cocktail recipes with the best ingredients.
• Haab ': a mystical experience in the depths of the jungle with the four sacred elements of water, earth, wind and fire, where you can relive the magnificent culinary arts of the ancient Mayan Civilization.
Banyan Tree Spa
The award-winning Banyan Tree Spa is an intimate retreat created to combine romance, serenity, and exotic sensuality.
A sanctuary for the senses and the very essence of the Asian wellness philosophy of serenity, warmth and comfort.
Founded in Phuket in 2001, Banyan Tree Spa Academy provides specialized training facilities to ensure that highly qualified therapists consistently provide the highest quality and authenticity Treatments anywhere in the world.

• 16 private treatment pavilions with views of the lagoon or jungle
• The Rainforest hydrotherapy experience
• Certified therapists from Banyan Tree Spa Academy
• Body treatments, massages and facials
• Yoga

Activities
• El Camaleón Golf Course: Put your skills - and mettle - to the test on our spectacular 18-hole championship golf course designed by renowned architect and legend Greg Norman.
A true masterpiece, El Camaleón is home to the only PGA Tour event in Latin America, the OHL Classic in Mayakoba.

• Intimate Moment: Discover your villa decorated with candles, delicate flower petals, satin sheets and delicately awakening aromatic oils and incense. Soft background music, wine or champagne, fresh exotic fruits and more chocolate Elevate your mood as you reconnect with your partner.

• Other Activities: kayaking, tennis, racquetball, cycling and jogging track, ecological boat rides, bird watching, snorkeling and yoga.
Carretera Federal Chetumal-Puerto Juárez Km 298, Playa del Carmen
Carretera Federal Chetumal-Puerto Juárez Km 298, Playa del Carmen
Let your soul dance with the Caribbean breeze and let yourself be carried away by the landscapes of freshwater lagoons and mangroves, natural dunes, coral reefs and the renowned Riviera Maya. Banyan Tree Mayakoba is an exclusive 5 Diamond resort that combines Asian hospitality with the idyllic passion of Mexico.