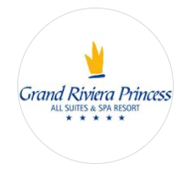 Grand Riviera Princess
The Grand Riviera Princess Hotel is a 5-star hotel in Riviera Maya that presents one of the best locations on the beach, allowing you to enjoy fine sand and crystal clear water in a comfortable and unique way. You will be 10 minutes from Playa del Carmen (10 minutes from the Municipality of Solidaridad), 40 minutes from the airport and close to areas of great tourist interest.

For your vacations in Riviera Maya, we offer you our Hotel with 674 rooms that stand out for their elegant design, spacious spaces and various options for the whole family. Some of them have direct and comfortable access to the pool. For those more demanding clients, we have the Platinum and Laguna Villa Suite rooms. The Platinum rooms are located in an exclusive area on the beach, with exclusive features and services of the Platinum Zone. And for large families, we have the Family Club Room Pool Access, perfect for their exclusive services and large spaces. In addition, with several function rooms, the hotel is ideal for hosting fun family parties and meetings.
The Hotel Riviera Maya stands out for its tropical gardens and especially for El Paseo de los Dioses, named for the spectacular path that crosses the hotel complex to the beach, with the presence of statues representing Mayan gods.

Enjoy incredible evenings taking advantage of the wide gastronomic offer: a variety of magnificent buffets and 7 themed restaurants that range from the famous Mexican "Haciendas", passing through the emblematic Switzerland to the glittering Italy. A quality cuisine, with exquisite gastronomic delicacies and unforgettable flavors. You have to try them!

To complete a perfect family vacation, at our Hotel in Riviera Maya we have prepared a wide variety of activities for children to have a great time: water sports, tennis courts, multipurpose courts, theater ... and for the little ones there are Mini Clubs to make crafts and Mini Disco.
Beach, attractions and points of interest
The Grand Riviera Princess All Suites & Spa Resort ***** Hotel is located in the ideal location, next to an impressive white sand beach in the Riviera Maya, close to the main tourist attractions and places of interest in the region.

Few hotels in Playa del Carmen offer you a better location from which to discover the best of this destination, whether you are looking for the tranquility and relaxation of its natural surroundings by the sea, or if you prefer the energetic, fun and cosmopolitan atmosphere that Playa del Carmen.

Thanks to this convenient location next to the center, the guests of the Grand Riviera Princess will be able to enjoy every corner of the Riviera Maya: from the center of Playa del Carmen, to Cancun 65 km away, or to the archaeological zone of Tulum at a distance Similary.
Prolongación 5ta Avenida, Playa del Carmen, Q.R.
Prolongación 5ta Avenida, Playa del Carmen, Q.R.
The Grand Riviera Princess Hotel is a 5-star hotel in Riviera Maya that presents one of the best locations on the beach, allowing you to enjoy fine sand and crystal clear water in a comfortable and unique way. You will be 10 minutes from Playa del Carmen