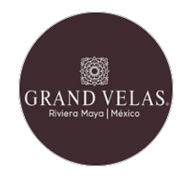 GRAND VELAS RIVIERA MAYA
Discover The Luxurious All-Inclusive Lodging Experience at this Resort In The Riviera Maya.
Surrounded by the fascinating atmosphere of the Riviera Maya, with its preserved mangroves, natural cenotes and hectares of lush vegetation, Grand Velas rises: a true sanctuary of relaxation that offers the most sophisticated experience of an all-inclusive stay in paradise. , where each guest is a guest of honor.

Explore the select gastronomy of our award-winning restaurants, enjoy the elegant design and decoration of your suite, pamper body and spirit in one of the most exclusive Spas in the world and find the rest offered by the beautiful beaches of the Mexican Caribbean.
GRAND CLASS - ROMANCE
A Romantic Trip To The Riviera Maya
A relaxing escape off the coast of the Mexican Caribbean awaits you at Grand Class at Grand Velas Riviera Maya, where the redefinition of the All-Inclusive Luxury concept takes on a new meaning. Admire the beauty of the Caribbean Sea from your plunge pool in the privacy of your suite in Playa del Carmen. Delight your palate with tasting menus or reserve a space dedicated to you in our acclaimed SE Spa.
AMBASSADOR
Fun for all the family
Located in front of the infinity pool, Ambassador is a space designed to be enjoyed with the family. Its elegant suites offer everything you need to create unique moments while enjoying the selection of amenities, private terraces with or without a plunge pool of your choice, and spa-style bathrooms with Jacuzzi. Its convenient proximity to the Kids' Club makes it ideal when traveling with children.
ZEN GRAND
A haven for relaxation
Luxury Surrounded By Nature At Our Resort In Playa Del Carmen.
Find the relaxation of an environment surrounded by the beautiful Mayan jungle and its mangroves and even a few minutes from the beach. Zen Grand at Grand Velas Riviera Maya is a true sanctuary to reconnect with the natural environment, well-being and relaxation with two specialty restaurants, swimming pools with unparalleled views of the vegetation. The beautifully decorated suites display an exclusive collection of amenities designed for your comfort with terraces and Jacuzz
Carretera Cancun Tulum Km 62, Playa del Carmen
Carretera Cancun Tulum Km 62, Playa del Carmen
Discover The Luxurious All-Inclusive Lodging Experience at this Resort In The Riviera Maya. Surrounded by the fascinating atmosphere of the Riviera Maya, with its preserved mangroves, natural cenotes and hectares of lush vegetation, Grand Velas rises