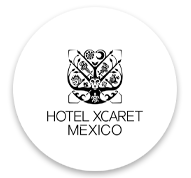 HOTEL XCARET MÉXICO
Hotel Xcaret México is more than a resort, it is a destination rich in history, art and entertainment.

The impressive ecosystem full of colors and textures establishes a perfect harmony between man and nature, in which the jungle, caves and rivers are the main ingredient of an eclectic and luxurious setting.

Live an authentic experience that redefines the concept of an all-inclusive resort and enjoy an ALL-FUN INCLUSIVE® vacation.

The premium comfort of a sophisticated resort, combined with a one-of-a-kind experience, which gives you unlimited access to Xcaret, Xel-Há, Xplor, Xplor Fuego, Xavage, Xochimilco and Xenses parks, as well as tours to Xenotes and Xichén.

With 900 rooms distributed in different buildings called "Houses", the Hotel Xcaret México pays special tribute to the Mayan region. Each "House" is represented by a universal element, base of the Mayan culture: Spiral, Wind, Water, Earth and Fire. Immerse yourself in sophisticated spaces, with unique amenities and services. An experience that will keep you in direct contact with nature, framed by sumptuous views of the Riviera Maya.
WHAT IS THE ALL-FUN INCLUSIVE PROGRAM?
With a strong Mexican essence, Hotel Xcaret México is proud to present its innovative ALL-FUN INCLUSIVE® concept.

A tribute to Mexico that offers you much more than a traditional All Inclusive, since it combines the comfort and luxury of an exceptional resort with eco-integrating architecture, and total access to the Xcaret, Xel-Ha, Xplor, Xplor Fuego parks, Xavage, Xoximilco, Xenses, and the Xenotes and Xichén tours. In addition to food and beverages, transportation between parks and airport - hotel - airport transfers

With facilities that intertwine our social responsibility, with a totally sustainable approach, Hotel Xcaret México has a unique architecture that creates a balance between aesthetics and ethics, surprising us by emerging in an original way hand in hand with the environment and integrating with nature. , respecting spaces and creating a singular harmony that is fun and exciting to look at.

Hotel Xcaret México, where fun, respect for nature, culture, relaxation and the best gastronomic experience are included.
Carretera Chetumal-Puerto Juárez, Km. 282.
Carretera Chetumal-Puerto Juárez, Km. 282.
Live an authentic experience that redefines the concept of an all-inclusive resort and enjoy an ALL-FUN INCLUSIVE® vacation